Visions of Justice Workshop with Project Rebound
Ninety percent of formerly incarcerated people who seek education stay out of prison, according to data from S.F. State and the Journal of Correctional Education, while the rate for those who don't seek education is 30 percent. For the past fifty years, Project Rebound, has helped formerly incarcerated people attend college across the state of California. Many of the individuals they serve are first-generation college students, with no or limited university experience. For these reasons, recruitment can be challenging, but once enrolled Project Rebound has a proven track record of retention and ultimately providing a life-changing experience to members of the community they serve. In the last decade, 140 students have graduated from San Francisco State through Project Rebound, with a 95 percent graduation rate.
The pilot "Visions of Justice" photography workshop was held August 20-23, 2018 at San Francisco State University, immersing court-involved youth in visual storytelling practices as a means to nurture self-expression, self-respect, and to explore their personal experiences and ideas of freedom and justice using photography. Partnerships, timing, and workshop methodologies were designed with an eye towards alleviating barriers that often impede court-involved youth from benefiting from Project Rebound's higher education enrollment opportunities and support services. The workshop's instructional team was lead by 2017 CatchLight Fellow and SF State Alum, Brian L. Frank, alongside SF State Alum/Professional Photographer, Justin Maxon, and CatchLight Impact & Engagement Manager, Jenny Stratton. This workshop was generously supported by the Pulitzer Center on Crisis Reporting and the resulting work has been exhibited at the San Francisco District Attorney's office and San Francisco State University.
Following the workshop, several students have embarked on professional photojournalism assignments with their work being published in media outlets including California Sunday Magazine.
Workshop photos by Vasudhaa Narayanan and Sarahbeth Maney
Visions of Justice Exhibitions
Visions of Justice Exhibition at the San Francisco District Attorney's Office.
On view currently
Visions of Justice Exhibition at San Francisco State University
October 12, 2018 - November 12, 2018
Photos by Sarahbeth Maney
California sunday magazine
Backstage: Two formerly incarcerated photographers on their first magazine assignment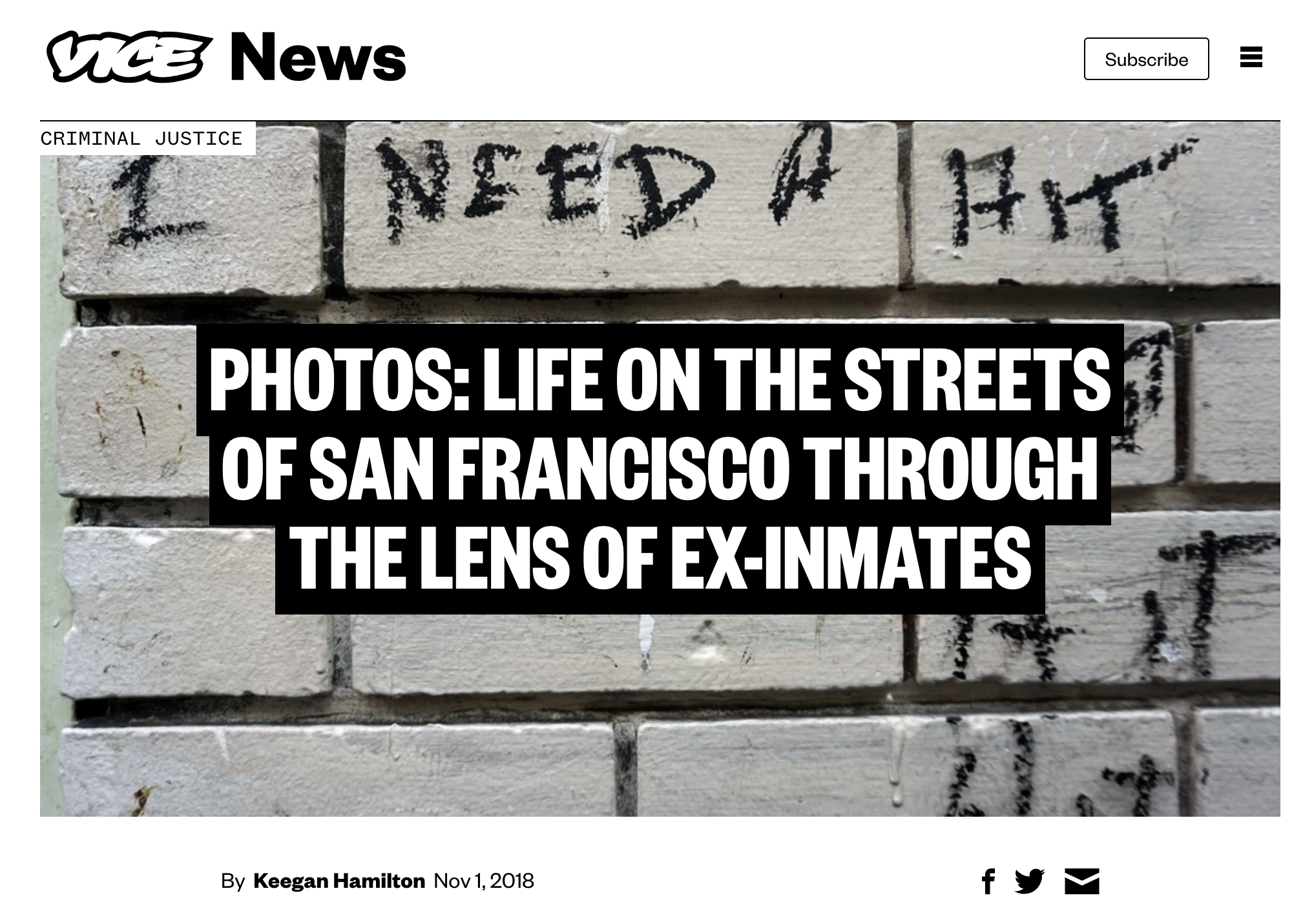 Check out VICE's coverage of the workshop and learn more about students Eugene Riley and Chris Shurn and their experience photographing in the Tenderloin.
Banner image: © Sarahbeth Maney