CatchLight Local
Applications for the 2019 Bay Area pilot are now closed. Check back here or sign up for our newsletter for future opportunities.
CatchLight Local is a place-based program that seeks to reseed visual storytelling at the local level by connecting powerful visual storytellers directly with local newsrooms and community members. The visual stories created and collaboration will establish a common ground for diverse insights and possible solutions to critical social issues facing local communities today. It launches in 2019 with a pilot in the Bay Area, focusing on the topic of economic inclusion.
What can you expect as a CatchLight Local Fellow?
In addition to a $15,000 stipend, the initiative offers personalized project development and distribution opportunities from CatchLight, GroundTruth, and local newsroom partners. CatchLight Local Fellows will work on their proposed projects from September 30, 2019, to December 31, 2019, with the support of their designated local newsroom partner. During this time period, the fellows will host one "town hall" event to engage local audiences in the creation of their work and spark meaningful dialogue with community members. These events will be tailored by the fellow, in consultation with CatchLight and community partners, to best serve local audiences and can range from informal community potlucks to pop up screenings while leveraging creative placemaking best practices.
Following the completion of projects, CatchLight will offer continued amplification and engagement support for an additional three months from February-April 2020. The nature of the awarded visual storytellers' work will determine the appropriate model for distribution and community engagement. CL Local Fellows will be expected to participate in person at two key CatchLight programs in San Francisco including a Visual Storytelling Summit in the Spring 2020. Additionally, representatives from the CatchLight Local Initiative will be invited to at the annual CatchLight Leadership Retreat in November 2019.
CRITERIA AND APPLICATION PROCESS
Eligibility: We are looking for exceptional talent, willingness to collaborate across newsrooms and communities, commitment to community engagement throughout project production and distribution, as well as a drive to shed light on diverse perspectives and issues of economic inequality in a local context.
The program is open to all people of all ages and levels of career experience who work with visual communication, including videographers and photographers working with lens-led technology for the purposes of visual storytelling, and a specific commitment to effecting change. Applicants may work in a broad range of visual formats including photography, video, audio, motion or VR. Proposals can outline the continuation of existing work or the creation of a new project keeping in mind the three-month deliverable timeline.
Preference will be given to applicants with an existing community connection to the geographic region for which they are applying; applicants with relevant projects already in progress are welcome to apply. People of color and others whose perspectives are underrepresented in media are highly encouraged to apply.
Application Process: The application portal opens on June 6 at 9am PST and the deadline to apply is July 17 at noon PST. Selected Fellows will be announced in September 2019. The CatchLight Local Initiative staff and program advisors will review applications, creating a short list of 2-4 finalists for each available position. Finalists will be notified by early August and scheduled for an interview with their potential host newsrooms, CatchLight and GroundTruth staff. Selected Fellows will be announced in September 2019.
THE NEWSROOMS
About The Salinas Californian
The Salinas Californian has served Salinas Valley readers for 148 years and is the oldest continuously published newspaper in California. It publishes online daily and in print three days a week: Wednesdays, Fridays and Saturdays. The editorial staff includes one editor, three news reporters and one sports reporter. The Salinas Californian also produces two weekly publications, the Spanish-language El Sol as well as Off 68, which serves the Highway 68 corridor. www.thecalifornian.com/
About Bay City News
Bay City News is a lifeline for Bay Area residents, businesses and government agencies in need of information about where people live, work and play. As the region's only general-interest wire service, Bay City News plays a vital role in keeping communities informed, whether it be through breaking news reports, up-to-date disaster information, in-depth public event coverage, or updates on local criminal and appellate court cases. Proudly independent and under new local ownership, Bay City News provides real-time reports directly to media organizations, news websites, public affairs firms and government agencies throughout the region. https://www.localnewsmatters.org/
About the San Francisco Public Press
The San Francisco Public Press is a local nonprofit, noncommercial news organization that does for print and web journalism what public broadcasting has done for radio and television. Through our website and quarterly newspaper, and partnerships with other public media and civic groups, we report on local issues including environment, education, housing, homelessness, labor and elections, and frequently host public events. Since 2009 we have established a reputation in the community for producing high-impact in-depth reporting projects on a wide range of topics, explaining complex local policy issues in an accessible way, investigating problems and reporting on ideas for tangible solutions. https://sfpublicpress.org/

COMMUNITY ENGAGEMENT INSPIRATION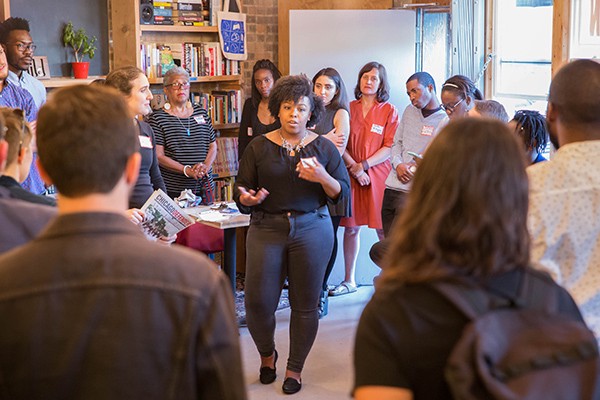 Public Newsroom | City Bureau
Every Thursday night City Bureau turns their newsroom on Chicago's South Side into an open space where journalists and the public can gather to discuss local issues, share resources and knowledge and learn to report and investigate stories.
StoryWorks | Center for Investigative Reporting
StoryWorks is a project of Reveal that produces performances at the intersection of journalism and theater.
Visions of Justice Exhibition
A groundbreaking exhibition at the San Francisco District Attorney's Office featuring the work of Brian L. Frank and Project Rebound students exploring personal experiences and ideas of freedom and justice.
Tender Souls Screening at Twitter | City Hope
Film screening at Twitter's downtown headquarters subtly challenges our ideas of what it means to be a San Franciscan.
Frequently Asked Questions
Does the stipend cover all expenses?
The $15,000 cash grant will be issued 50% on approval and 50% upon completion and the stipend is all inclusive.
What is the overall timeline of the fellowship?
CatchLight Local Fellows will work on their proposed projects from September 30, 2019, to December 31, 2019, with the support of their designated local newsroom partner. Following the completion of projects, CatchLight will offer continued amplification and engagement support for an additional three months from February-April 2020.
What are the rights granted associated with the creation and distribution of the project?
The Fellow will retain all copyright of the work produced during the fellowship. CatchLight, The GroundTruth Project and Host Newsroom will be granted a royalty free, irrevocable and perpetual license to publish any works created by the Fellow in the context of the Project. This license will also permit Host Newsroom's affiliated corporations, successors and licensees publication rights to the works created by the Fellow.
Will we be able to continue working with the newsroom?
The opportunity for the Fellow to continue to work with the newsroom will be decided on a case by case basis between the Fellow and newsroom. It is our hope that this program leads to new and stronger relationships between local newsrooms and visual storytellers.
Do you have to be based in the community you will be working in?
Fellows do not have to be based in the community however preference will be given to applicants with strong ties to communities they wish to cover and no relocation expenses will be covered.
Banner image: © 2017 CatchLight Fellow Brian L. Frank